---
Alpina Dolomites Rebrand
Brand Identity, Publication, Web Design,
Experiential Installation

Instructor:
Annie Huang Luck
A hospitality rebrand revitalizes its identity, highlighting the distinctive architecture and the enveloping mountain terrain, and employs a flexible, variable logo system to enhance brand recognition.
Alpina Dolomites, located on Europe's largest high-altitude plateau, is surrounded by a truly natural setting that offers a harmonious living experience with nature—where respect for the surroundings meets cherished traditions and modern adventures in sports and wellness. The renewed hospitality experience begins with the architecture itself, drawing inspiration from the enchanting mountain landscape to foster a deep connection with the terrain. One can experience upon arrival at the entrance resembling a crevice in the rocks, immersed in its genuine mountain atmosphere.
Check out the process here︎︎︎
︎︎︎Inspiration
Inspired by nature, the lodge boasts bright interiors and an exterior that harmonizes with the landscape. Natural materials like quartzite and wood ensure seamless integration with the surroundings, while the building's design echoes the magical mountains, creating a true symbiosis with the territory.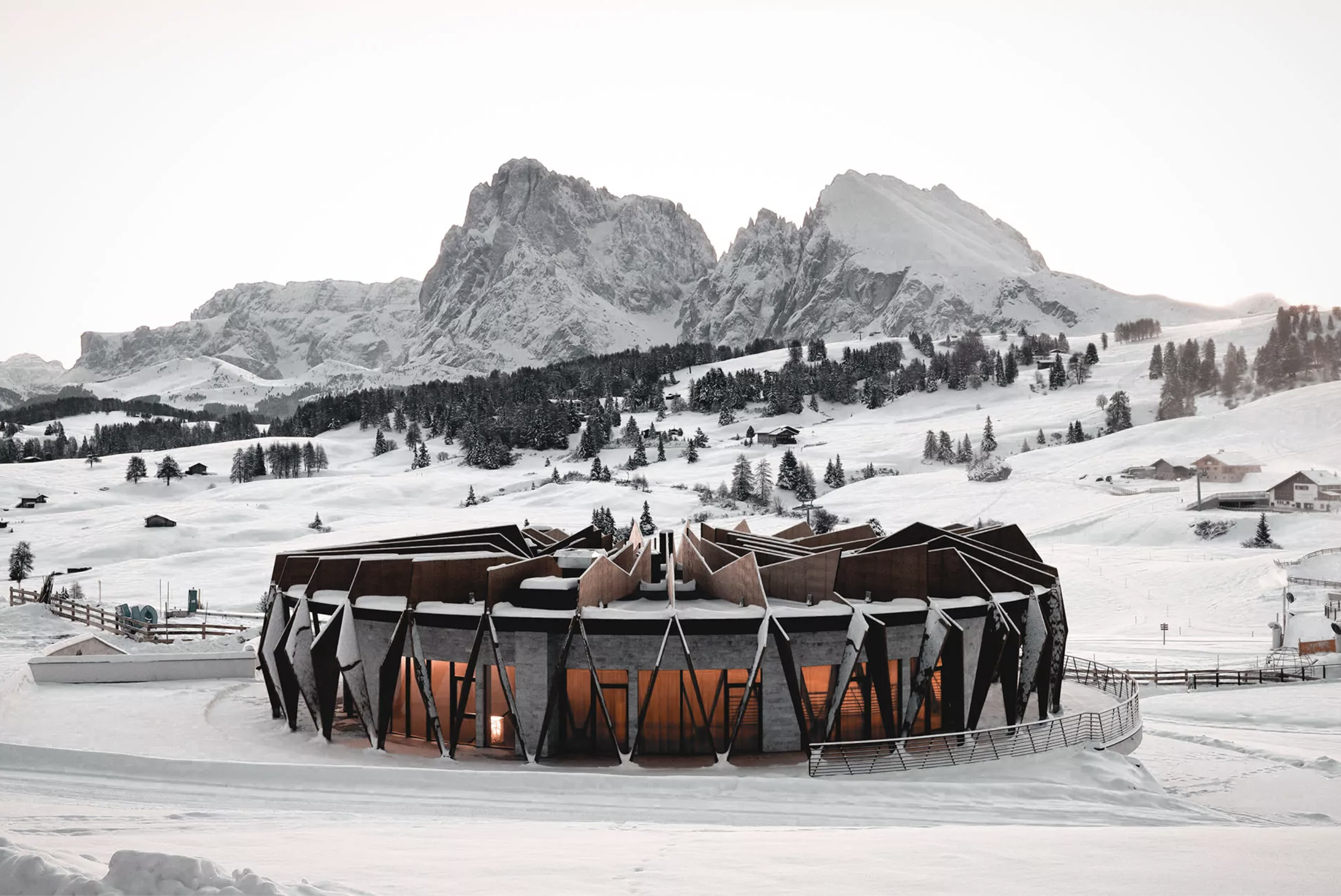 ︎︎︎Color Palette
Drawing from the Dolomites' palette, the color scheme merges the mountains' pale hues with the vibrant tones of the alpine glow, creating a cohesive and inspired color palette.
︎︎︎Logo Animation
A variable logo was developed, featuring an abstract shape at center that reflects both the architecture and the mountains. This shape shifts according to the content, rendering the logo versatile and dynamic.

︎︎︎Variable Logo System
The variable logo is utilized to create icons for various areas within the hotel, enhancing the visual navigation and branding experience.
︎︎︎Hotel Lookbook
The lookbook merges three vital facets of the hotel and its alpine surroundings, with each edition varying in size to echo the layered architecture and mountain tiers. The front and back cover are created with abstract 'A' and 'D'', symbolizing the Alpina Dolomites' essence.

︎︎︎First Lookbook

Introducing the hotel and the geological wonders of the surrounding mountains with a split-page design, allowing readers to mix and match the architecture with the landscape for a variety of compositions.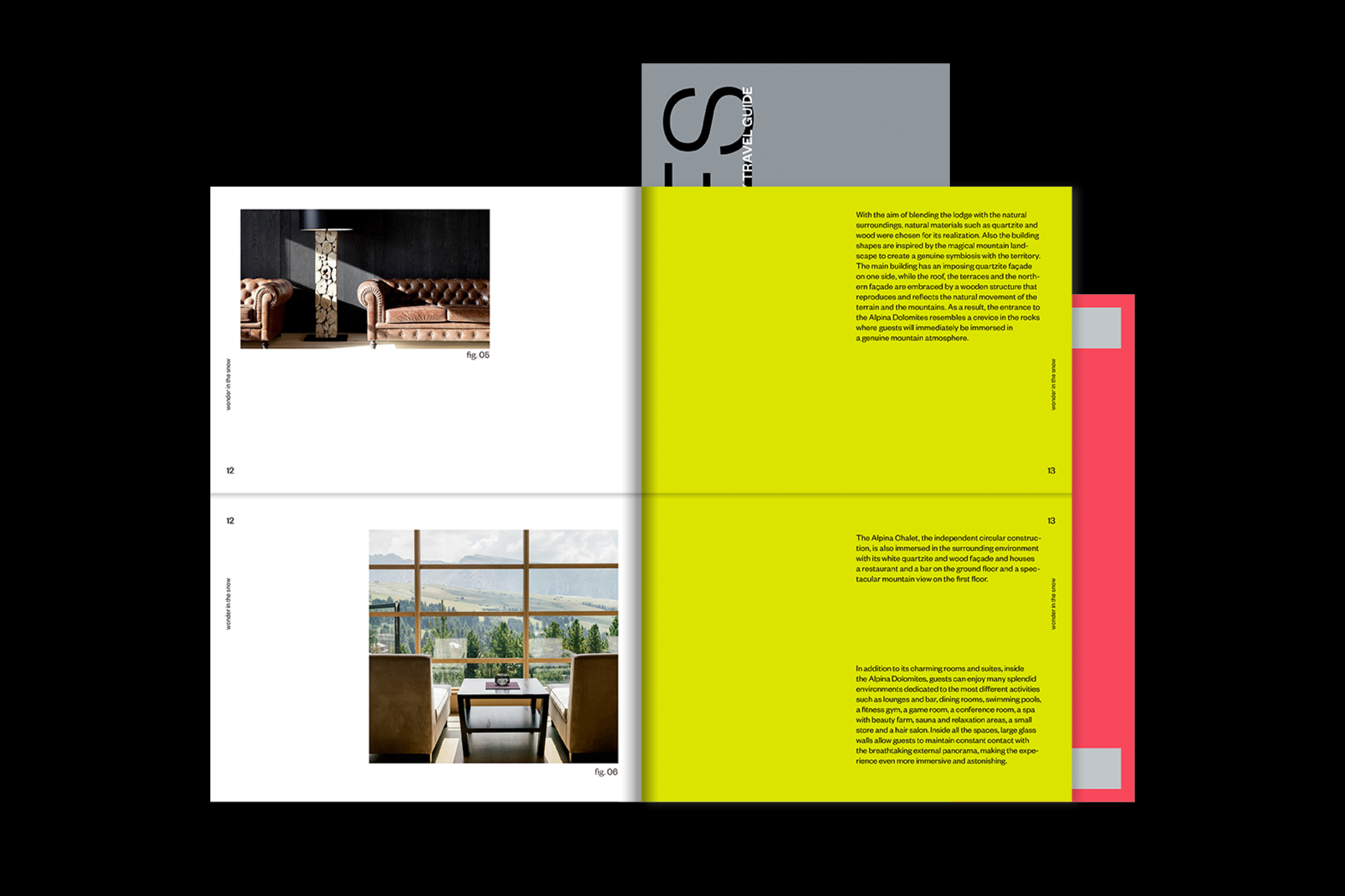 ︎︎︎Second Lookbook
A roll-fold travel guide that presents essential information on the mountain's features and the array of activities available in its vicinity.

︎︎︎Third Lookbook
Showcases the enchanting Enrosadira—also known as the Alpine Glow of the Dolomites, with a roll-fold cover design enhancing the visual experience.

︎︎︎Website
Incorporating the variable logo system into the website design, a tab system was created where layered pages mirror the stratified construction of both the architecture and the mountains.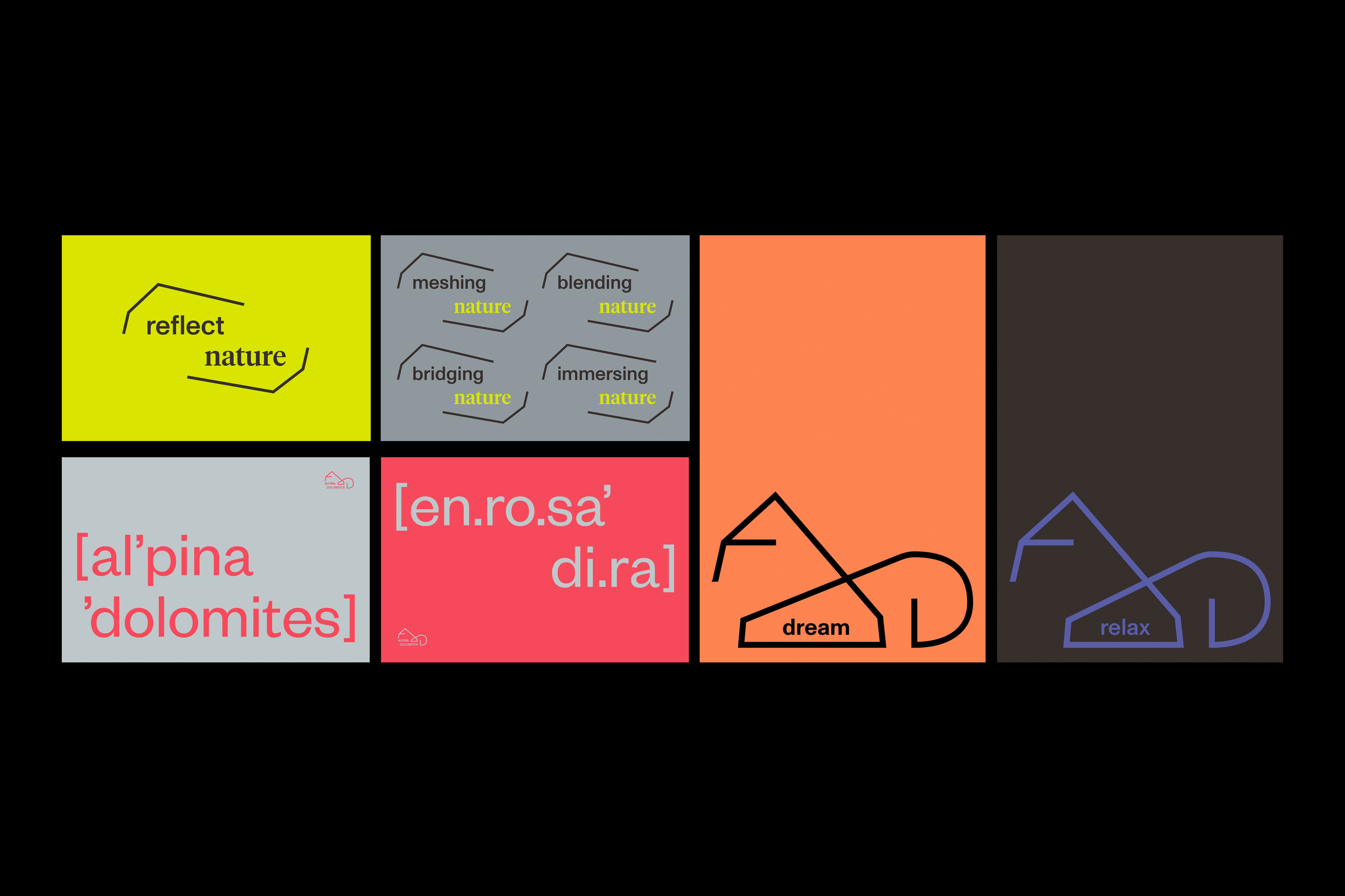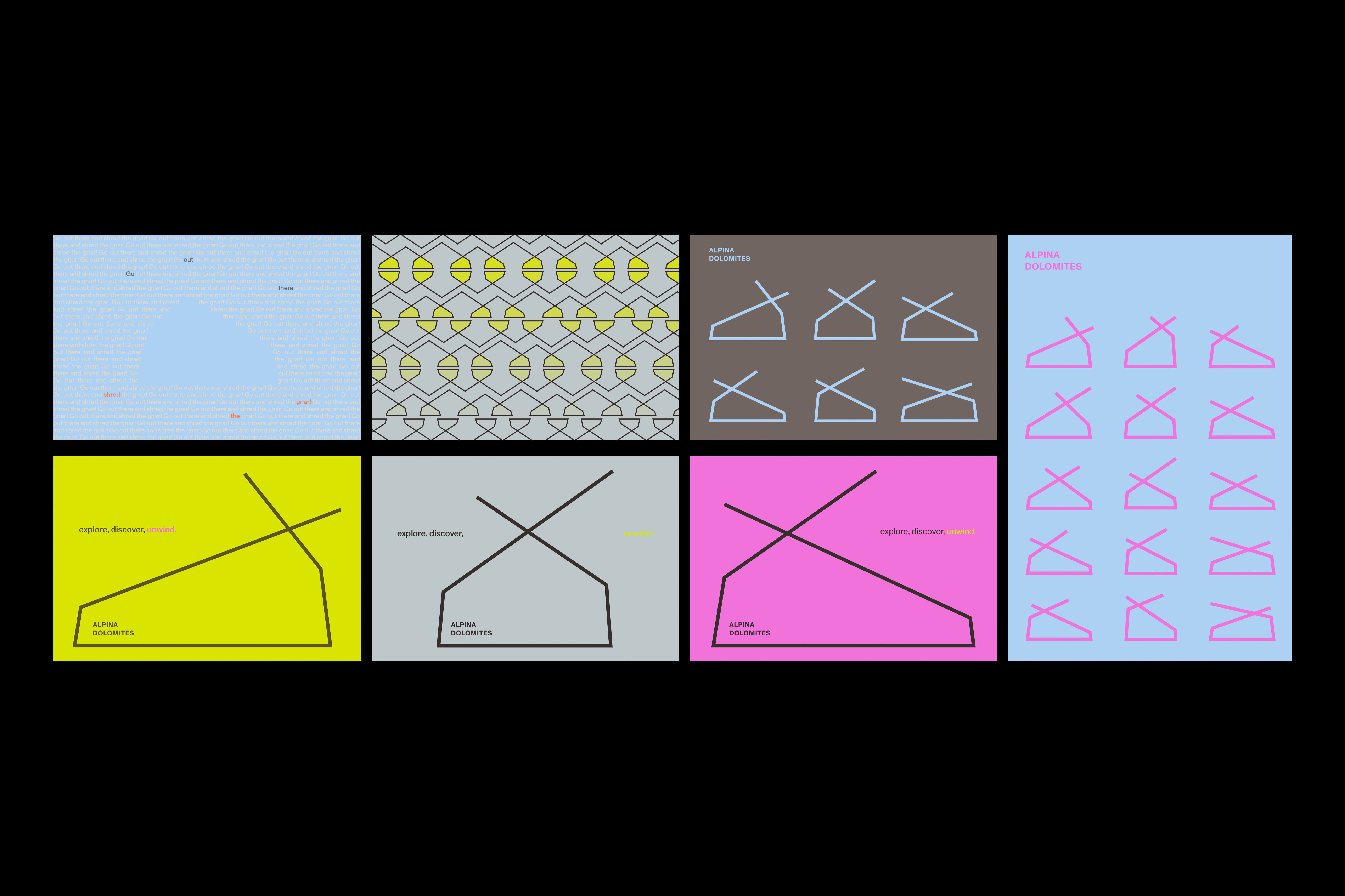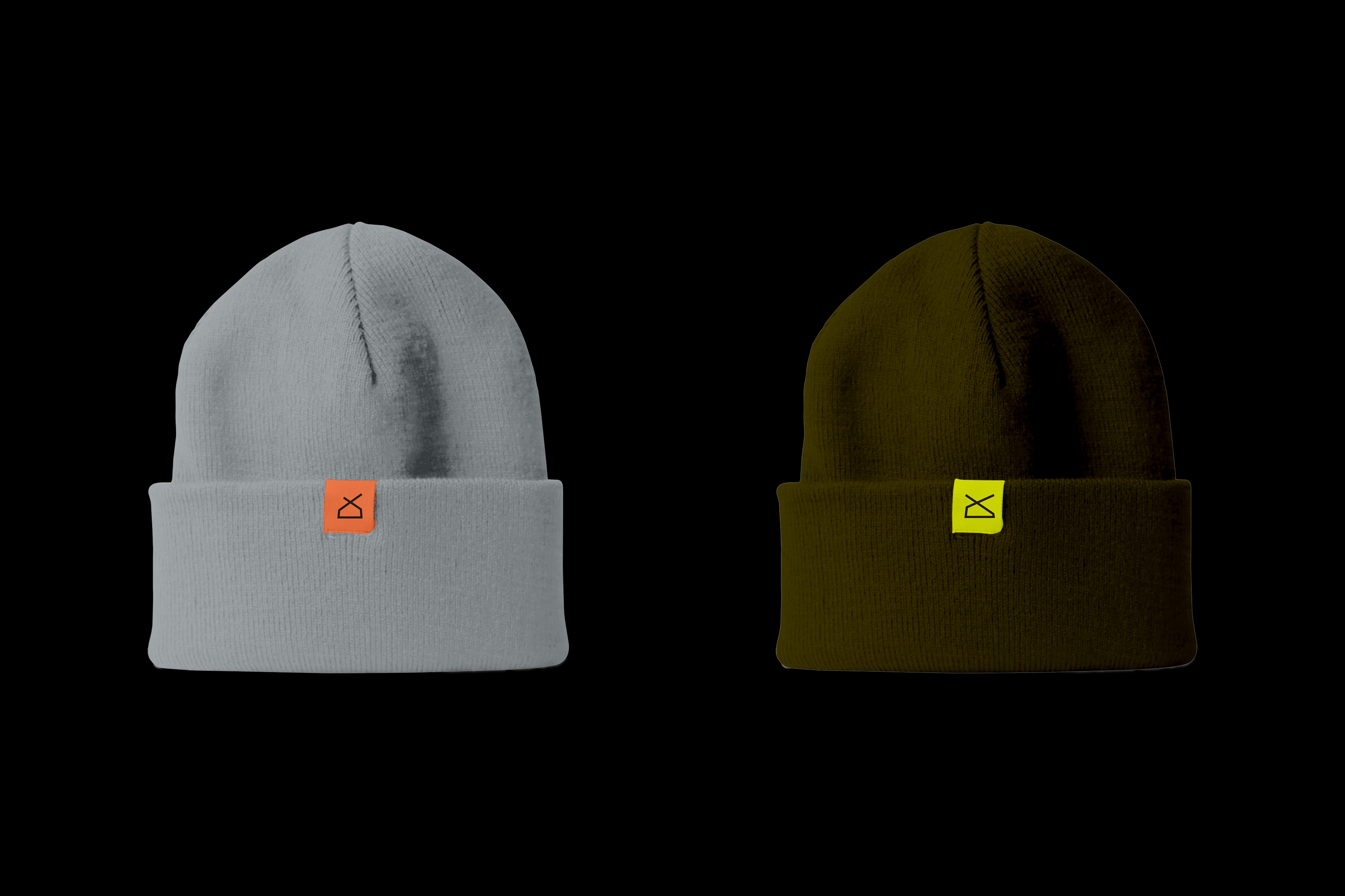 ︎︎︎Experiential Installation
The objective is to enrich brand engagement by illustrating the lodge's unique architecture and the surrounding Dolomites through interactive experiences. It allows audiences to immerse themselves in the lodge's ambiance and local culture. By leveraging technology such as MadMapper, content is transformed from 2D to 3D, capturing the layering essence of the mountains in a structured installation.