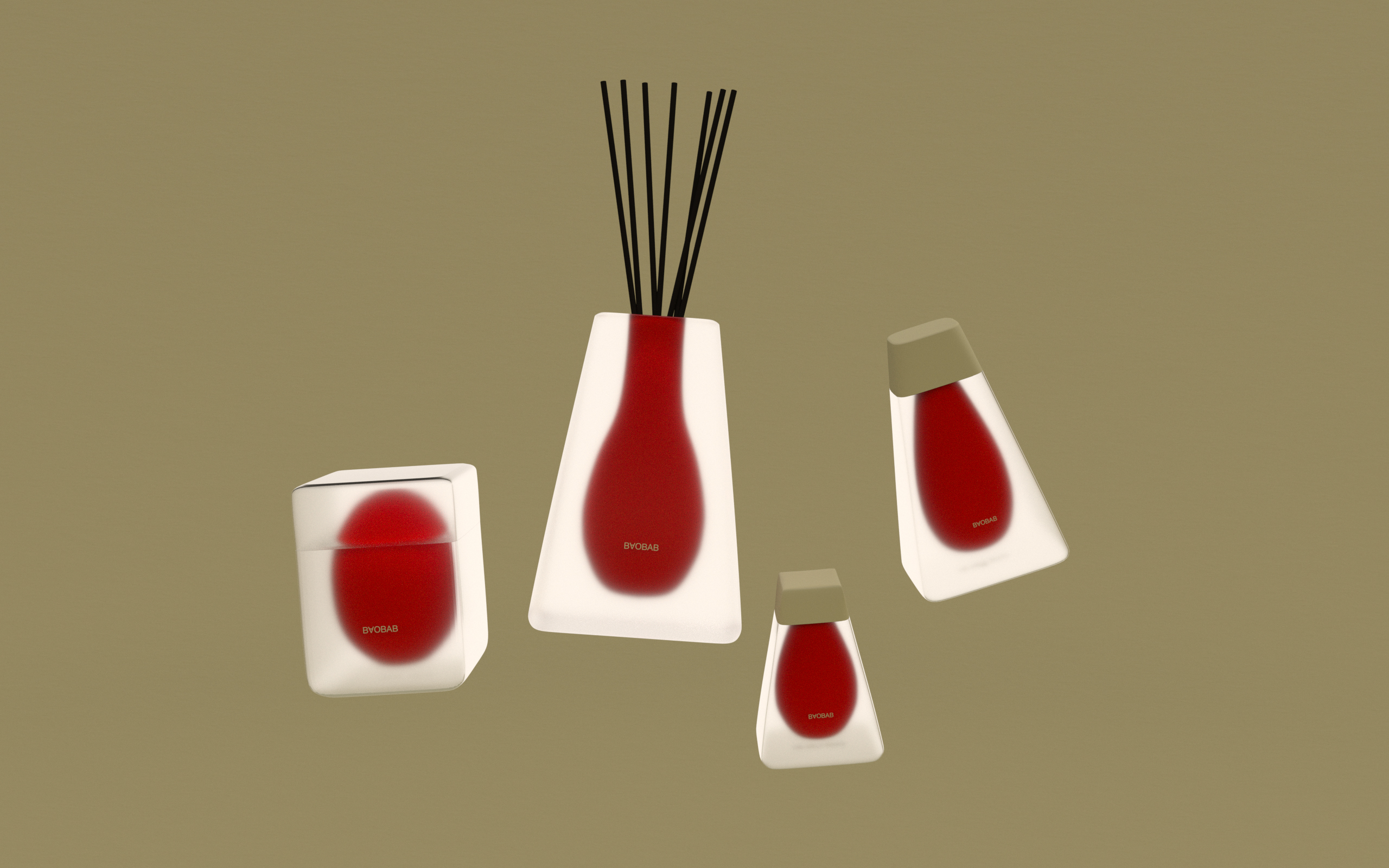 ---
BAOBAB Collection Rebrand
Packaging Design, Brand Identity,
Retail Environment
Instructor:
Gerardo Herrera
Until now, the Baobab Collection lacked a distinctive brand narrative, an iconic identity, and diverse product offerings. They needed to update its visuals to align with modern market trends and appeal to younger generations.
The new 'Heart of Baobab' collection, a signature series for the home fragrance brand. Drawing inspiration from the baobab tree trunk's hollows, which remarkably store up to 300 liters of water—a true marvel in the harsh, arid environment of the African Savannah. This collection emphasizes the tree's resilient spirit by showcasing the hollow in its glass form, transcending from scented candles to diffusers, essential oils, and room sprays.
This project also presented an opportunity for me to master digital rendering, physical model-making, product photography, lighting, composition, image editing, and art direction.
Check out the process here︎︎︎
︎︎︎Packaging Concept
Taking a cue from the hollow within the baobab tree trunk, the design celebrates the tree's unyielding spirit, weaving the cavity theme into the packaging and across the whole product line.

︎︎︎Product Line
Scented Candle, Fragrance Diffuser, Essential Oil, Room Spray.

︎︎︎Logo
The logo is inspired by the baobab tree, also known as the upside-down tree, with branches that look like roots sticking out of the ground.

︎︎︎Color Story
Color-coded packaging that represents top note (black rose), heart note (oud wood), and base note (saffron) for easy identification and enhanced brand recognition.

---
︎︎︎Packaging Lineup
Main product line, diffuser stick, and safety matches with secondary packaging.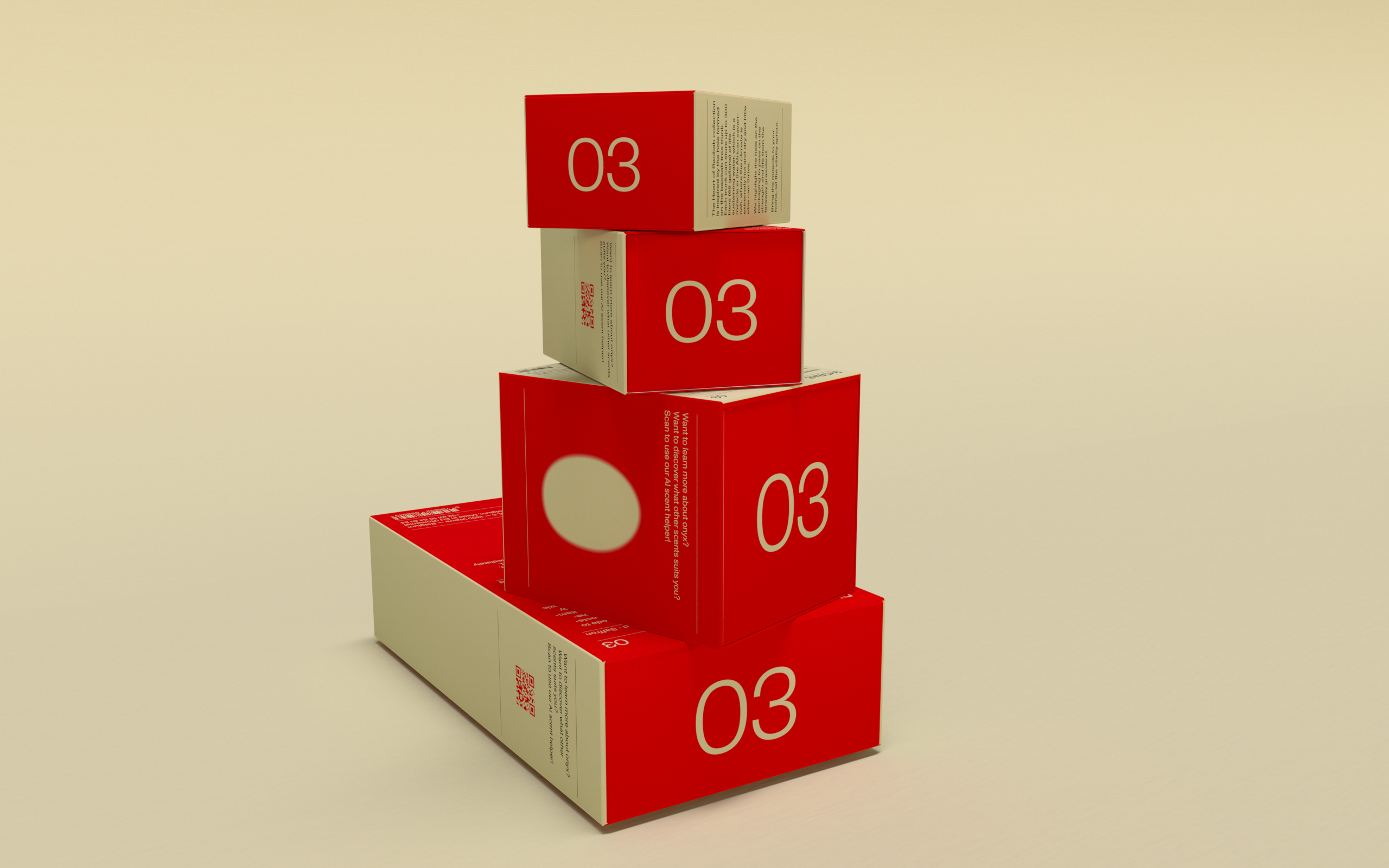 ---
︎︎︎Safety matches
︎︎︎Scented Candle Packaging
︎︎︎Secondary Packaging Lineup
To quickly engage customers with the baobab tree story, the design emphasizes an enriched tactile experience and rapid narrative comprehension.

The three steps opening ceremony unfolds in three stages, beginning with the retail box. Initiated by pressing the die-cut hole at the bottom, customers can pull out the product encased in light glass packaging nestled within a recycled paper pulp insert. The final act involves peeling off the seed paper label, highlighting the sustainable materials employed throughout.

︎︎︎Opening Ceremony
The opening method invites potential buyers to physically interact with the product, offering a tactile experience that is essential to understanding the product's quality and backstory.

︎︎︎Seed Paper Label

︎︎︎Candle User Manual

︎︎︎Safety Matches
︎︎︎Room Spray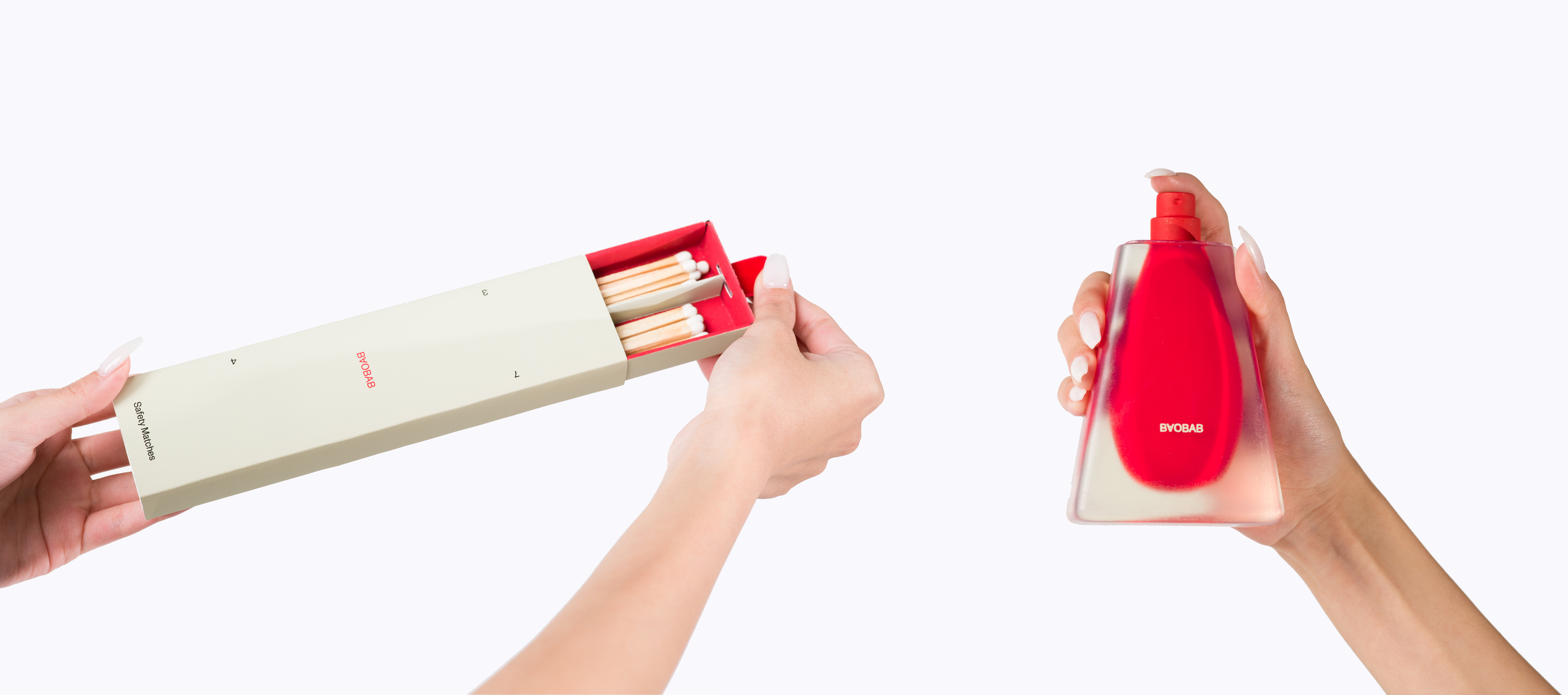 ︎︎︎Retail Self Standing
It was crucial to display the complete product line, as it will be retailed in store like Sephora and Nordstrom. A customized self-standing display accentuates the baobab tree trunk's distinctive characteristics, aiding customers in distinguishing it from competitors.

︎︎︎Countertop
Beyond the main display, a versatile countertop design was conceived to adapt fluidly within the retail environment.

︎︎︎Process
3D printing, spray painting, Kongsberg cutting, and rub-down transfer technique has been used during the model-making process.